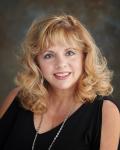 DEBRA (DEBBIE) SHREINER
Debbie knows there is nothing as exhilarating as finding the perfect home for just the right buyer. With more than 20 years of real estate experience, Debbie brings a wealth of knowledge to her buyers and sellers to help them do just that.
A Barberton native and active member of the Barberton business community, Debbie is a sharp businesswoman who intricately knows the local real estate market. She has been a top selling agent in the area for the past 12 years and has been named a Chamber of Commerce Outstanding Business Leader.
However, her real success comes from the personal attention and warmth she devotes to each of her clients.
Debbie is a graduate of Barberton High School and attended Kentucky Christian College. She has been a licensed realtor for more than 20 years, and worked at Great Northern Savings previously. She is a member of the Barberton First Church of Christ and Magic City Kiwanis, a Friend of the Barberton Community Foundation, and a member of the Akron Area Board of Realtors.
When she is not working, Debbie and her husband, Russ, enjoy traveling and spending time with their three married daughters and five grandchildren.