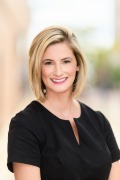 KRISTIN (COMBS) STRAYER
Kristin graduated from Norton High School in 2003. Following graduation, she attended the University of Akron where she obtained an associate's degree in Paralegal Studies. She worked as a legal assistant in a private practice in Akron for a number of years, at which point she was introduced to various types of law – including real estate law.
While law has remained a passion of hers, Kristin ultimately ended up pursuing a career in real estate after marrying her husband, Scott Strayer, whose family has owned Helen Scott Realty, Inc. and Helen Scott Custom Builders, Inc. for a significant number of years. Her husband is now the owner of Helen Scott Custom Builders, Inc, and a career on the real estate side of the family business seemed to be an obvious choice for Kristin.
She is now a full-time Realtor primarily serving Summit County (and also a few surrounding areas), and feels that her background and experience in the legal field has particularly helped her excel in this career and allowed her to better serve her clients. She has found her career in real estate to be very rewarding, despite the economic hardships that the industry has faced.
In her spare time, Kristin can be found spending time with her family and friends, cooking, enjoying the outdoors, and traveling.
Kristin is a member of the Akron Area Board of Realtors.